Integrated security door for Data Center
When creating a DC, elements like doors do not receive special attention. This product is considered to be quite a simple solution and the market is full of manufactures of that kind of goods.
But if to study this issue, it is clear that not every product can meet the requirements, specified for DCs. Let's have a closer look at the functions of doors in DCs:
provision of physical perimeter protection from trespassing;
alarm in case of violation of physical protection perimeter;
door as an executive element of access control system;
protection from high temperature impact while fire in DC server room;
separation of air volume in server rooms and isolation of air masses from server and administration rooms.
According to the abovementioned such simple element like door shall have the following qualities:
Fire resistance, remote control of locks, locks control via access control cards, possibility of integration of door control system to various systems of Monitoring and Access Control (MAC), alarm of door status, high leakproofness, vandal-proofness and of course acceptable visual design.
Features of integrated security door.
Automatic control of equipment operation and alarm of errors. Compatibility with all currently existing systems for point security provision.
Simplicity and convenience of assembly.
Minimization of operating costs.
Brief solution description.
Integrated security door is a ready-for -installation product completed with door frame with trims, door leaf, card-access lock, lock cylinder, door handles, wire conduit for cable transition from door leaf to door frame, door closer of hidden installation, opening door sensor, proximity card reader. It is also possible to create a supplementary level of hierarchy partition of access by means of lock cylinder coding according to access levels.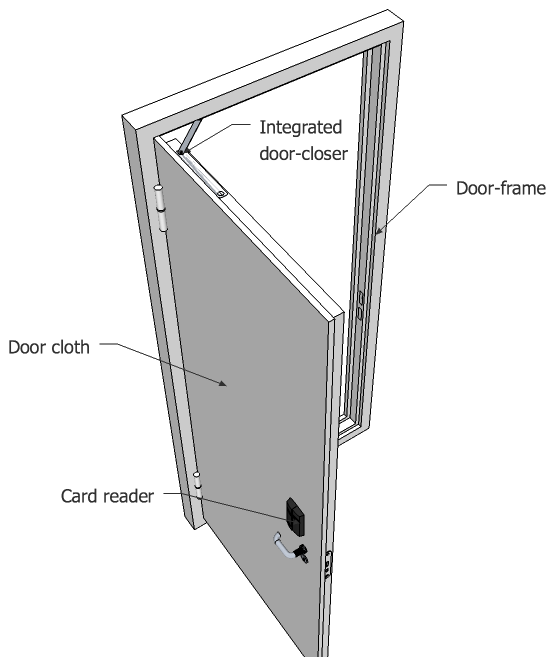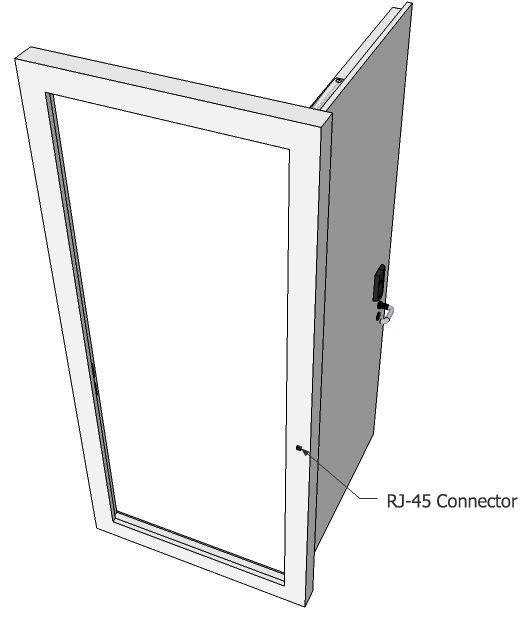 The key feature is a full preparation and testing of all door equipment at the plant before transportation to the facility. All active equipment is completed with connectors and is tested for connection correctness. It allows to substantially simplify the process of assembling and almost avoid connection errors that finally spare engineer's time at the installation site.
Know-how used in a construction of door leaf and door frame along with low mass satisfy highest demands as for geometry, toughness and structure stability, as well as leakproffness and fire resistance of doors.
The furniture produced by the Finnish company Abloy is used as basic furniture in integrated security doors. It ensures no failure operation of all executive mechanisms during all operating life of the door.
Characteristics of integrated security door:
| | |
| --- | --- |
| Characteristic | Indicator |
| Design meets | GOST R 53307-2009 |
| Door size | At choice |
| Material of door and door frame | Steel М20 |
| Door lock | Abloy El-560 |
| Door closer | Abloy DC-860 |
| Card reader | Matrix III E+ |
| Door opening sensor | Installed |
| Fire resistance | IE 60 |
| Compactor | Smoke suppressant |
| Humidity resistance | IP 66 |
| 'No panic' function | Installed |
| Color | At choice (RAL) |
Order integrated security door you can here